These are the days we dream of. SNOW, SNOW, SNOW and more snow! This last system brought 39 inches in 48 hours! Looking forward, we are seeing a predicted 4-8 inches dropping today. It is piling up here in Breckenridge so put on your boots and get out there this weekend. We will see you on the hill.
At the Weather Channel they are predicting a storm cycle out of the northwest beginning on Sunday and moving south, followed by a second storm cycle out of the southwest beginning on Tuesday and moving northeast. You can find the predicted snowfall of these storm cycles at our Snow Report here.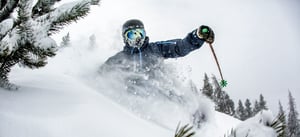 Come play in the powder this weekend right here at Breckenridge Ski Resort. Nearly all runs are open with Snow White run of Peak 8 still to open. Keep an eye out for this new terrain coming soon.
If you aren't much of a skier or looking for another way to enjoy the fresh snow, check out my previous blogs postUnique Winter Activities for ideas on unique ways to enjoy the snow such as a snowmobile or fat bike tour.