The Event
This year's 30th Anniversary of the International Snow Sculpture Championship takes place January 20-29. 16 teams from around the world will compete to create masterpieces out of 20 ton blocks of snow. This years competitors include USA Alaska, Argentina, USA Breckenridge, China, Ecuador, France-Normandie, Germany, Great Britain, India, Mexico, USA Minnesota, Mongolia, Switzerland, Turkey, USA Wisconsin, and USA Vermont.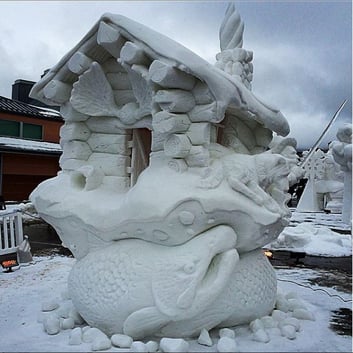 Creating Masterpieces
With a canon start at 11am on January 20th, our teams get to work. In just three days, they must use only their hand tools, creativity, and teamwork to carve these intricate and spectacular pieces of art. Root for your favorite team and watch as they bring ice to life! Once completed they will be lit with changing light displays.
Public Viewing and Voting
Check out these finished pieces outside the Riverwalk Center, 150 W. Adams Avenue on January 24th. Then, place your vote for the People's Choice award. Voting Ends January 25th at 2pm. Winner will be announced on all @GoBreck Social Media Platforms on January 26th, so give them a follow too:)

Warm Up and History Up
At the FirstBank Warming hut you can warm your toes, and explore the history of this unique festival. Located inside the Riverwalk center you can find history exhibits and a souvenir shop. Open 12pm-8pm the 20th through the 29th.

Snow Glow
In honor of the 30th anniversary, the event has also hired a team of visual light designers to team up with a non competing snow sculpture team to create a commemorative 30ft light sculpture. The coolest part, they will use state of the art pinpoint mapping technology to make images come to life in a 3D effect. The sculpture can be found in the Blue River Plaza and viewings take place every half hour from 4:30-9pm on January 24-29.


More at https://www.gobreck.com/event/international-snow-sculpture-championships/#