Heading to Breckenridge this week or just arrived, you're in time to see the aspen leaves at their peak. Breckenridge is one of the best spots in the state to see the leaves change, whether hiking, driving or horseback riding, you are bound to spot some golden aspens.
Scenic Drives
French Gulch Road
The French Gulch area was one of Colorado's most fertile mining regions. A drive over the pass will reveal centuries old mining activity as well as dazzling displays of aspens changing from bright green to vibrant golds and reds. The dirt road is graded and passable by most passenger vehicles.
Along the way you will pass Country Boy Mine, which is open for tours as well as gold panning in the nearby river.
Boreas Pass
Not far outside of town you will find this mountain pass that leads you to the tiny town of Como. Boreas is home to a large section of aspens lining the road, making this already scenic drive even better. Once on the other side, turn the drive into a loop by swing back around through Fairplay/South Park and back to Breckenridge.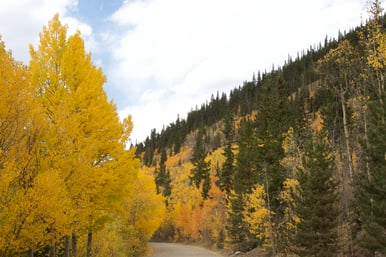 Lake Dillon
Lake Dillon itself it a top destination for visitors but when the leaves are changing, the view just gets even better. Rent a boat, kayak, SUP or take a drive around it; the backdrop of the lake pops with patches of golden aspens among the evergreens.
Hiking Trails
Mount Royal
This difficult trail, located right on the edge of Frisco passes through groves of aspens. The hike itself is steep and strenuous but the view from the top is incredible and worth it.
Minnie Mine Loop
Located in the Golden Horseshoe area, this 1.6 miles loop will take you through large patches of aspens as well as mining relics and sweeping views of the 10 Miles Range.
Eaglesmere Lake
This 7 mile RT hikes is nestled in a thick patch of aspens and wildflowers. The end goal is a stunning lake with great views of Lower Cataract Lake and Cataract Falls.
Lower Cataract Lake Loop Trail
This easy 2.25 mile RT offers a waterfall, a creek, a lake, and plenty of aspen trees along the way.