April conditions have been incredible in Breckenridge for powder hounds.
The resort recorded 15 inches of new snowfall in the 24 hour period from the morning of Tuesday, April 4, to Wednesday, April 5, totaling 29 inches in the last week. Add that to the 30 inches Breckenridge had received since wintery conditions started returning around March 24, and you have 45 inches in 2 weeks.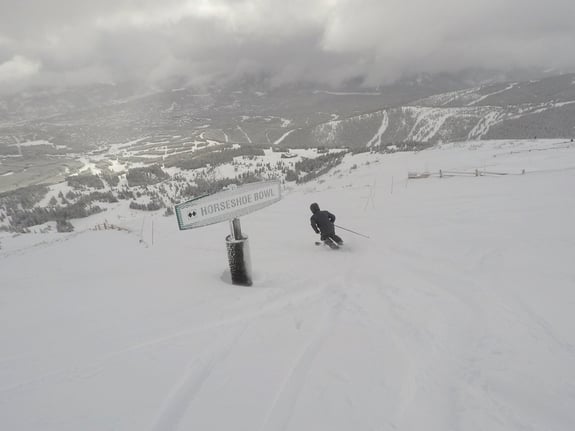 A Breckenridge Ski Resort photo from the March 29 powder day.
The resort is still 100% open and is currently boasting an incredible 82-inch mid mountain base. The weather forecast is calling for more snow to fall this weekend starting on Saturday and continuing through Sunday into Monday morning.
For guests planning a visit, now is a great time as the snow is not only incredible, but there's a few fun end-of-season events on the way providing fun for the whole family.
On April 8, the Breckenridge Spring Beer Festival brings over 35 breweries for tastings, free live music, a VIP area and wonderful food and retail vendors. It all takes place in the Village at Breckenridge plaza and Main Street Station on the south side of downtown Breckenridge starting at noon.
On April 14 and April 21 starting at noon, Spring Fever Park Jams will take place in the Freeway and Park Lane terrain parks, where there will be music, free hot dogs and jam style contests. Cash winnings will be up for grabs to male and female athletes in both categories.
Easter Egg hunts and an early morning on-mountain service will be held on Sunday, April 16. At 6 a.m. on Easter Sunday, guests are invited to load the Quicksilver SuperChair at the base of Peak 9 up to a special location for a free sunrise service. No lift ticket is required. Following the service, kids are invited to hunt for hidden Easter Eggs on Peaks 8 and 9, where a protected area will be open and monitored for the children to hunt for eggs.
The season will end with the brand-new Breck Plunge pond skim on Closing Day, which is Sunday, April 23.