When you have done all you can in Breckenridge, what else is there to do? The sun is blaring, its hot and you're trying your best to social distance. Hop in the car and drive over to Frisco Marina and Dillon Reservoir for a fun filled day!
Frisco Marina offers rentals for a whole lineup of watercraft to keep the entire family entertained.
Power Boats
Bring the family and some friends on one of their 20ft or 24ft Pontoon Boats. Pontoon boats can accommodate up to 10 people and can be rented in 2 hours blocks or longer if you wish. What better way to beat the heat than to cruise around on one of Colorados biggest lakes. If you are a smaller group or looking to head out to try your hand at fishing, The Marina also offers a smaller fishing boat option. These boats will hold up to 5 people and are not designed for comfort but perfect for causing around and catching some wild trout.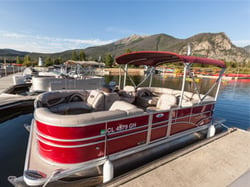 Non-Motorized Boats
Maybe you are not looking for a power boat but want to get out on the water, the marina also offers a Kayaks, Canoes, and Stand up Paddle Boards. Kayaks can be rented in a single person or 2 person style while Canoes come in a 2 person or 3 person setup. Stand Up Paddle Boards are for 1 person only and they also have the option to rent a Stand Up Peddalboard! This is a new and fun way to see the lake.
Sailboats
For those more experienced Captains who are looking for a relaxing day on the water, Windriver of the Rockies offers 18' and 22' sailboats to rent. Passenger capacity varies with each boat but they range from 5 to 8 people. Windriver also offers lessons for those who have never sailed before or hop on one of their tours, sit back, relax and take in the views.
With the ever changing Covid Situation, Frisco Marina has made many changes to ensure guest safety. Please head over to their website for up to date information on pricing and information. All bookings should be done online or by calling the marina at 970-668-4334.
After you have spent the day on the high seas make sure to head over to The Island Grill for a great lunch or dinner. Head over on Friday evenings for happy hour and some live music.
Now you are ready for a full day on the water. Have fun and stay safe!