Labor Day Weekend is just around the corner and with that brings the 45th Annual Gathering at The Great Divide Festival in Breckenridge. This is the longest running fine arts festival in Summit County and has been ranked in the top 100 art festivals 6 out of the last 7 years. Year after year the festival returns to summit county and brings with it artists who will wow you with their creations.
About
The Gathering at The Great Divide Fine Arts Festival will showcase 75 artists this year. Their art will cover a broad spectrum ranging from Photography, Glass, Wood Working and Jewelry just to name a few. The Art Festival is perfect for families and people of all ages.
The Festival is free to all.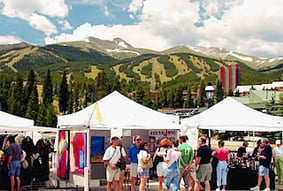 When and Where
The Festival will take place over Labor Day Weekend, September 5th-7th, 2020. 10am - 5pm Daily and 10am - 4pm on Monday.
Guests who are high risk are asked to visit the festival during the typically slower times, Saturday and Sunday between 12-1 and 4-5pm or anytime on Monday.
The Festival will be held in a new location this year in the CMC parking lot.
Covid Precautions
The Great Divide Arts Festival has taken precautions to ensure a safe event for all. Masks will be required to enter and when moving around the festival. There will also be one way walk ways set up to reduce interaction among patrons. Masks and gloves will be available and hand sanitizer stations will be set up throughout the event.
Enjoy Labor Day Weekend and The Arts Festival!